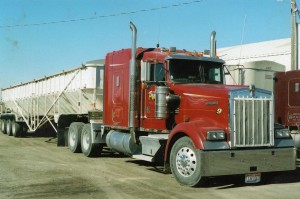 As far as hauling commodity products we are set up to facilitate several different avenues such as:
Grain
Whether it be Wheat or Corn we have trailers that will make transport worry free and economical.  We have hauled directly out of fields during harvest to storage facilities or we can pick it up and deliver it to your feedlot or dairy to be utilized in the feed rations.  Let us know your needs and we can accommodate.
Hay
Our Hay and Straw page covers our services in more detail for this section.
Seed Potatoes
We pride ourselves in our sanitation practices that ensure seed producers with peace of mind during pick-up, transport and delivery.
Potatoes
We will pickup your potatoes from your storage facility and transport them to one of the potato processing facilities in the area.
Potato By-Products
Potato by products are a great high fat/energy livestock feed substitute.  As far as By-Products go we are set up to haul frozen and fresh, further processed potato waste products from french fries to hash-browns.
Sugar Beet By-Products
Beet Pulp is a by product from processing the beets for sugar.  Pulp is a great livestock feed substitute.
Specialty Transport
If you have a need to move something then we will find a way to make it happen.